.
.



Leids Kamerkoor Jubileumconcert: Fiesta de la Musica
Saturday 3 June 2023
Petruskerk, Leiden

Leiden Chamber Choir celebrated its 35th anniversary! We celebrated this with a rousing music party with orchestra and soloists. The program included three works with distinct characters.
Inspired by a mystical medieval poem, composer Ola Gjeilo lets the choir enter into a dialogue with piano and string orchestra in Dark Night of the Soul. Sometimes the piano accompanies the choir, then the roles are reversed. The emotions of the poem unfold in a variety of musical atmospheres – from desire to grace.
Composer Leonard Bernstein goes off the beaten track with his Chichester Psalms. Psalms and a church organ? Yes of course! But Bernstein adds harp, percussion and strings, and above all his idiosyncratic style. His Chichester Psalms are now overwhelming, then enchanting and always surprising.
We closed Fiesta de la Música with a festive mass. Martín Palmeri nicknamed his Misa a Buenos Aires Misatango for a reason. Accompanied by accordion, piano and string orchestra, this mass swings from Kyrie to Agnus Dei. The notes dance the tango, until they find peace in Dona nobis pacem in the last bars.
Programme
Ola Gjeilo – Dark Night of the Soul
Leonard Bernstein – Chichester Psalms
Martín Palmeri – Misa a Buenos Aires
Mezzosoprano: Diamanto Katerina
Countertenor: Marcel Jorquera Vinyals
Saturday 12 November 2022
Sint-Petruskerk, Leiden
Every ending is a new beginning. In Infinity, Leiden Chamber Choir sings about the journey of life, in beautiful music by mainly contemporary composers. Birth, life, death and what may come after are often compared in art to waking up, spending the day, unwinding and falling asleep. This program follows this structure. We get up before dawn to watch the Northern Lights with Ola Gjeilo. Eric Whitacre opens our eyes. We experience love with Morten Lauridsen and enjoy Musicks Empire, the realm of music. The spatial composition Cantilene by our previous conductor, Jeroen Spitteler, is an acoustic representation of the impressions of the day. We sing about how everything comes to rest at the end of the day in a beautiful song that Anneke Wittop Koning composed especially for the Leids Kamerkoor in 2018: The sun is couched. Other highlights of the program are related to eternal rest and eternal life, for example in the impressive choral works Agnus Dei by Samuel Barber and Lux ​​Aeterna by Edward Elgar. The title of this immersive program is taken from Infinity by the Norwegian composer Kim André Arnesen, who points out to humanity that in the infinity of the universe we must use our moment in here and now, because we only have one chance. Do we choose the light or the darkness? Shall we rise or fall? Or is there always that new beginning?
Programme
Northern Lights                Ola Gjeilo
La Rose Complete           Morten Lauridsen
Oculi Omnium                 Eric Whitacre
Musicks Empire              Lloyd Pfautsch
Esti Dal                            Zoltán Kodály
The Sun is couched         Anneke Wittop Koning
Trilo                                Bengt Ollen
Weary with toil,
I haste me to my bed    Paweł Łukaszewski
Cantilene                         Jeroen Spitteler
Da Pacem Domine         Arvo Pärt
Agnus Dei                       Samuel Barber
They are at rest               Edward Elgar
Lux Aeterna                    Edward Elgar
Infinity                            Kim André Arnesen

Masters of Classical Music
Saturday 11 June 2022
Emmauskerk, Leyweg 930 Den Haag
Sunday 12 June 2022
Petruskerk, Lammenschansweg 40a Leiden
Mozart Ouverture Le nozze di Figaro
Haydn Nelson Mass
Händel Dixit Dominus
Pärt Da pacem Domine
Conductor Dody Soetanto
Soprano Deasy Hartanto
Mezzo soprano Diamanto Christoforidou
Tenor Edmond Chu
Bass Yuichi Sakai
ConcertoValiante Baroque and the Leids Kamerkoor performed works by masters of classical music. The varied program opened with the inspiring overture of Le nozze di Figaro, one of the top operas by Wolfgang Amadeus Mozart.
In Joseph Haydn's Missa in Angustiis, the choir and soloists joined the orchestra. Haydn himself simply called this work Missa. It was nicknamed Nelson Mass in the 19th century because when Haydn was composing the mass, the British led by Admiral Nelson defeated Napoleon. The trumpets in the Benedictus were seen as a symbol of British victory. In reality, Haydn had already finished the mass when the news broke, but the name stuck.
The first part of Dixit Dominus by baroque composer Georg Friedrich Händel was next on the programme. This is Handel's setting of Psalm 110 The LORD said unto my Lord. The then 22-year-old composer incorporated the insights that he had gained during his studies of Italian opera.
Arvo Pärt is one of the greatest contemporary classical composers. Two days after the Madrid attacks in March 11, 2004, he began composing Da pacem Domine, "Give us peace, Lord." Leids Kamerkoor sang this contemplative work for you.

Autumn Concert 2019 : Triptiek
Saturday 16 November 2019, Lokhorstkerk, Leiden
Since the reopening of Museum De Lakenhal, it is home again: The Last Judgment by Lucas van Leyden, the groundbreaking triptych. This masterpiece of northern Renaissance is the source of inspiration for Leiden Chamber Choir's program Triptiek: three parts, each with its own character, forming a whole together.
With our musical triptych we took our audience to three periods and three regions: Italian Renaissance, British Romanticism and modern Scandinavian choral music. From those three perspectives Triptiek told the story of mankind's relationship with love, death and nature.
In the intimate atmosphere of the Lokhorstkerk, our listeners experienced how composers bring universal themes to sound in their own way in different periods – from an Italian madrigal about a love-sick man cooling his heart under the stars to the cries of Swedish fishermen wives who finally see their men return from the sea. This triptych offers a wide view on what a-cappella choir music has to offer, in a varied program where there is always something new to discover.
Open Monuments Day 2019
Sunday 15 September 2019
Academiegebouw, Leiden
Heritage Open Days 2019 took place across the Netherlands during 14-15 September. Thousands of monuments, recognizable by the Open Monumentendag flag, opened their doors to the public for free. On this occasion, the Leids Kamerkoor was invited to sing in Academiegebouw, Leiden. We performed pieces from our next concert in November among pieces from our previous repertoire.
Program
Sfogava con le stelle
C.Monteverdi
Arsi e alsi a mia voglia
C.Monteverdi
Death on the Hills
E.Elgar
Bluebird
C.V.Stanford
Farewell
C.V.Stanford
De profundis
Vic Nees
Go Lovely Rose
E.Whitacre
O've Lass Il bel Viso
M.Lauridsen
<>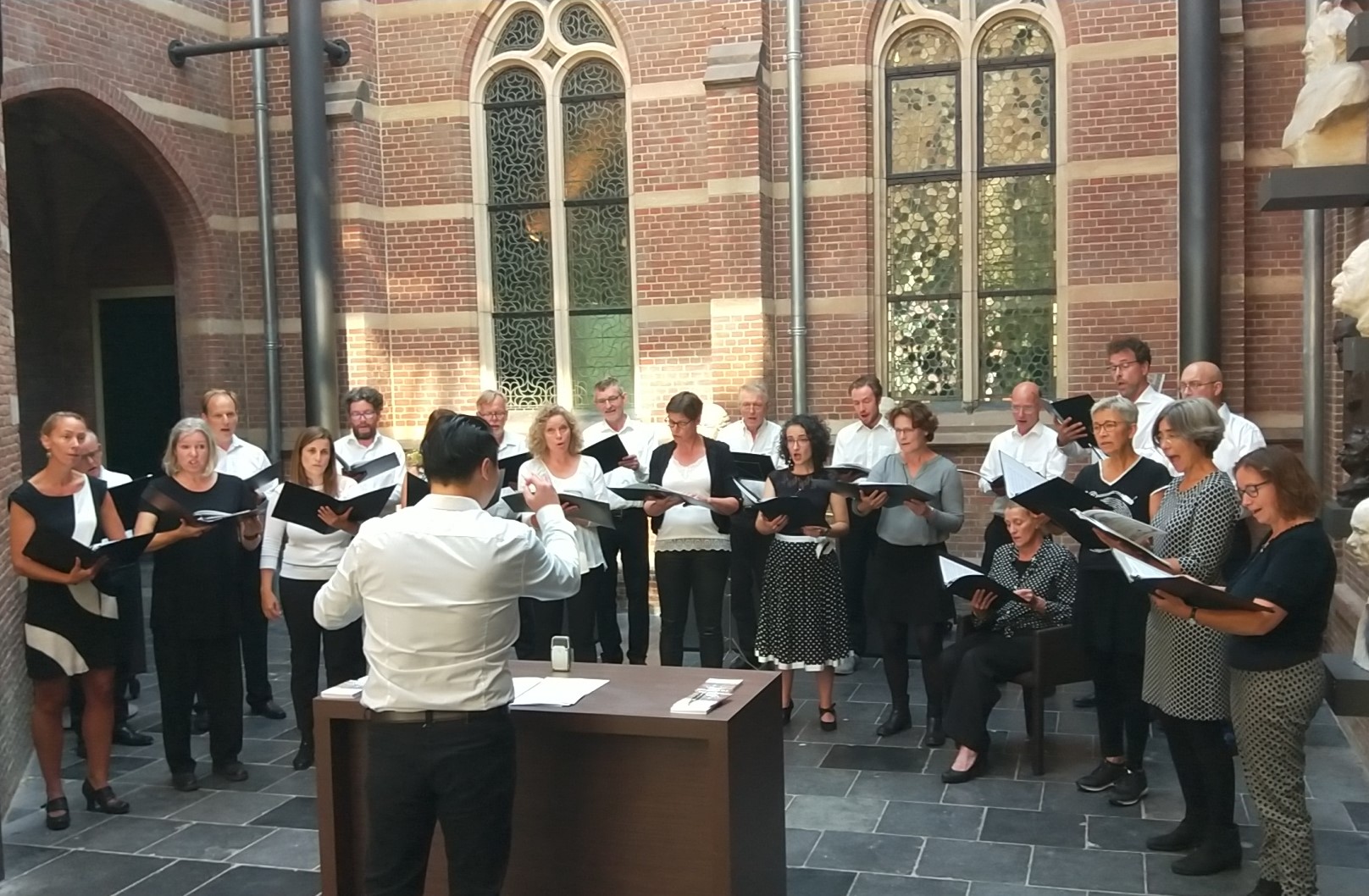 Click here for the official website of Heritage Open Days for more information.

Summer concert 2019 : Reflection
Sunday 30 June 2019, Lokhorstkerk, Pieterskerkstraat 1, Leiden
Rising from a dark cool pond, she found the light and opened gladly her golden heart. She now rests peacefully on the water, thinking …
This image of a water lily comes from a poem of Frederik van Eeden and put to music by Herman Strategier. It was the essence of our summer concert with the theme reflection. A contemplative programme and the first major concert of Leiden Chamber Choir with our new director Dody Soetanto.
Quatre Motets pour un temps de pénitence by Francis Poulenc formed the heart of our programme. These motets are based on Biblical texts and are about penitence. Before penitence, there is always reflection. Religious and secular works from different periods form the leaves around this golden heart. All of them allow reflections in their own way.
Miserere by Alessandro Scarlatti and O vos omnes are two sacred works from renaissance. We sang the latter in two different adaptations: by Tomás Luis de Victoria and Carlo Gesualdo. They are accompanied by religious music by contemporary composers: t De profundis by the Belgian composer Vic Nees , a supplication from man to God, literally 'from the deep'.
Water is like a mirror that invites us to take a better look at ourselves. It is an ever returning image in poetic texts of secular music like The Blue Bird by Charles Villiers Stanford. Water is also the source of our lives. It is for a reason that we sang Edward Elgar's Death on the hills : 'There, let the old drink water.'
From the contemporary composer Eric Whitacre we sang two contemplative works: Water Night en Go, Lovely Rose. His contemporary Morten Lauridsen builds a bridge between works fromed different periods of our concert with Ov'è, Lass', Il Bel Viso?. He was inspired by the secular madrigals of Monteverdi and Gesualdo.
Reflection is the basis of being better tomorrow than today. That wasa nice thought to start the summer with, a time that invites us to think about life and dreams. Apart from that, Reflection was just a delightful concert with beautiful music to enjoy.
Leidse Hofjesconcerten 2019
Monday 10 June 2019
Ars Aemula Naturea, Pieterskerkgracht 9A, Leiden
Under the direction of our new director Dody Soetanto, Leiden Chamer Choir performed a part of our upcoming summer concert during Leidse Hofjesconcerten. Our thema 'Spiegeling' – Mirroring includes works from Edgar Elgar (Death on the Hillls), Charles Villiers Stanford (The Blue Bird), Eric Whitacre (Water Night), Morten Lauridsen (O've Lass, Il bel Viso), Francis Poulenc (Quatre Motets pour un temp de penintence).
For more information about Hofjesconcerten Click here.
Hoorn Chamber Choir Festival 2019
On Saturday 25 May, we participated in the Chamber Choir Festival in Hoorn. We did not only perform ourselves, but there was also plenty of opportunity to listen to the other participating chamber choirs. Very educational and fun! We participated in the workshops for singers and conductors led by Michel Meijer and Jos van Veldhoven. During these workshops we focused on three beautiful works, which we performed in the evening in the final presentation in the Oosterkerk.
§ G.F. Handel, Hallelujah from Messiah
§ J.S. Bach (attributed), Ich lasse Dich nicht (motet for two choirs, Anh. 159)
§ J.S. Bach, Nimm, was dein ist, choir opening from Cantate BWV 144
Saturday, 25 May 2019, Oosterkerk Hoorn (NH) 
Leids Kamerkoor sang in Centrum De Regenboog in Zoetermeer
The Leiden Chamber Choir brought a splendid and completely a capella program with the focus on penance and compassion with both old and contemporary composers: Alessandro Scarlatti (Miserere), Carlo Gesualdo en Tomás Luis de Victoria (O vos Omnes), John Taverner (Mother of God & Funeral Ikos), Johannes Verhulst (De nevel dekt ons), Vic Nees (De profundis) en Francis Poulenc (Quatre Motets pour un temps de pénitence).
This concert took place as a part of the activities organized by the ecclesiastical congregation during the Silent or Good Week (the week before Easter).
Tuesday 16 april 2019, Groene of Willibrordkerk, Haarlemmerstraatweg 6
Oegstgeest
Wednesday 17 April 2019, Centrum De Regenboog, Nathaliegang 263, Zoetermeer
Leids Kamerkoor in de Hooglandse Kerk
Leids Kamerkoor took part in Cantatediensten series in de Hooglandse Kerk with Bach's Cantata nr. BWV 72 'Alles nur nach Gottes Willen'. The choir is under the direction of Dody Soetanto since december, 2018.
Director: Dody Soetanto
Soprano: Ardelia Padma Sawitri
Alto: Antoinette Stevens
Tenor: Edwin Poels
Orkestra: leden van Collegium Musicum
Church organ: Gerard de Wit
Bach composed the cantata in his third annual cycle for the Third Sunday after Epiphany.The prescribed readings for the Sunday were taken from the Epistle to the Romans, rules for life (Romans 12:17–21), and from the Gospel of Matthew, the healing of a leper (Matthew 8:1–13). The cantata text was written by Salomon Franck, who was Bach's librettist when they both worked for the ducal court in Weimar. Franck published it in Evangelisches Andachts-Opffer in 1715, whereas Bach composed the music much later. Ihr, die ihr euch von Christo nennet, BWV 164, is a comparable example of Bach turning to a text by Franck.
The closing chorale "Was mein Gott will, das g'scheh allzeit" was written by Albert, Duke of Prussia in 1547. The chorale theme (Zahn 7568) by Claudin de Sermisy first appeared in print in the collection of secular songs Trente et quatre chansons in 1528. Bach had used the chorale before as the base for his chorale cantata Was mein Gott will, das g'scheh allzeit, BWV 111, composed for the same occasion in 1725.
Bach first performed the cantata on 27 January 1726.He later used the opening chorus for the Gloria of his Missa in G minor, BWV 235.
Chorus:

Alles nur nach Gottes Willen

Recitative and arioso (alto):

O selger Christ, der allzeit seinen Willen

Aria (alto):

Mit allem, was ich hab und bin

Recitative (bass):

So glaube nun

Aria (soprano):

Mein Jesus will es tun, er will dein Kreuz versüßen

Chorale:

Was mein Gott will, das g'scheh allzeit
Sunday 27 January 2019 in Hooglandse Kerk, Leiden.
Lustrum Concert: Rossini – Petite Messe Solennelle
Saturday evening 17th November, the Temple Hall in the Rijksmuseum van Oudheden
Sunday afternoon 18th November, the Groene Kerkje, Oegstgeest
Our big anniversary concert took place in November. We performed Rossini's Petite Messe Solennelle twice. A very challenging piece – "the work is more swirling than contemplative and demands endurance and virtuosity of choir and soloists that are less common in liturgical music", so that we didn't have time to get bored in the second half of our lustrum year.
Conductor: Jeroen Spitteler
Piano: Femke de Graaf
Harmonium: David Jansen
Soprano: Francis van Broekhuizen
Mezzosoprano: Elsbeth Gerritsen
Tenor: Guy Cutting
Bariton: David Visser
With special thanks to our sponsors:
Fonds 1818
VSB Fonds
Summer Concert: And There Was a Great Calm

Sunday 17th June 2018,
Lokhorstkerk Leiden
2018 year marks the 100th anniversary of the end of the First World War – a war that changed the world. Convinced that they were fighting for a worthy cause and would return home victorious after a short battle, soldiers departed enthusiastically for the front. But there were no winners in this war, only losers. The First World War claimed millions of lives. Empires and kingdoms disappeared. Families and communities were disrupted. All that remained was a feeling of utter futility.
On 17th June, the Leids Kamerkoor gave a concert entitled 'And There Was a Great Calm'. With this concert, we not only wanted to commemorate, through the consoling beauty of music, those lost in this terrible war, but also to cherish the precious happiness of living in peace and freedom.
Programme

| | |
| --- | --- |
| Ēriks Ešenvalds | Trees |
| Jacob Handl | Ecce quomodo moritur |
| Herbert Howells | Requiem |
| Rudolf Mauersberger | Wie liegt die Stadt so wüst |
| Maurice Ravel | Trois Chansons |
| Ahmet Adnan Saygun | Çanakkale İçinde |
| John Tavener | Funeral Ikos |
| Tomas Luis de Victoria | Caligaverunt Oculi Mei |
| William Monk | Abide with Me |
| Anneke Wittop Koning | The Sun is Couched |
Leiden Hofjes Concerts 2018
Monday 21st May 2018, Leiden
Top music in top locations! On 21st May, Whit Monday, the Leids Kamerkoor was invited to sing in the 10th edition of the Leidse Hofjesconcerten: a festival where the Leiden audience can enjoy a variety of artists and music styles in the beautiful ambience of more than twenty Leiden courtyards (hofjes). Beautiful locations throughout the city – covered and in the open air – where performances take place.
We sang pieces from our summer concert And There Was a Great Calm.
For information and the full programme, visit the official website of the Leidse Hofjesconcerten.
Heritage Open Days 2017
10th September 2017, Pieterskerk, Leiden
Heritage Open Days 2017 took place across the Netherlands during a weekend in September. Thousands of monuments, recognisable by the Open Monumentendag flag, opened their doors to the public for free. On this occasion, the Leids Kamerkoor was invited to sing in Leiden. We performed excerpts from the Cycles Poétiques concert – poems set as musical miniatures by composers like Britten, Hindemith and Lauridsen.
Programme

| | |
| --- | --- |
| Louis Andriessen |  Un Beau Baiser |
| Anoniem 14de eeuw |  Virgo Splendens (El Llibre Vermell de Montserrat) |
| Anoniem 14de eeuw |  Laudemus / Splendens |
| David Lang |  I Lie |
| Paul Hindemith (1895-1963) |  O La Biche / Un Cygne (Six Chansons) |
| Benjamin Britten (1913-1976) |  The Evening Primrose (Five Flower Songs) |
| Morten Lauridsen |  La Rose Complete (Les Chansons des Roses) |
| Sergei Rachmaninov |  Bogorodjietse Djevo (Vespers) |
See the official Open Heritage Days website for more information about the event.
Summer Concert 2017: Cycles Poétiques
Sunday 26th June at 3.15pm, Chapel of the Bonaventura College, Leiden
Jeroen Spitteler, director
The bouquet that Benjamin Britten sent his friends Leonard and Dorothy Elmhirst in 1950 for their 25th anniversary will never wither.  He composed the "Five Flower Songs" song cycle specially for them.
These flower songs were at the heart of the Leids Kamerkoor's "Cycles Poétiques" summer programme, along with some other 20th and 21st century song cycles.
Paul Hindemith, Morten Lauridsen and Anneke Wittop Koning also wrote song cycles that, just like Britten's, are musically inspired by poems, expressing poetic imagery through musical miniatures.
The medieval pilgrim songs from the Llibre Vermell de Montserrat provided a wonderful complement to all this modern music.
Programme

| | |
| --- | --- |
| Benjamin Britten (1913-1976) | Five Flower Songs |
| Paul Hindemith (1895-1963) | Six Chansons |
| A. Wittop Koning | The Earthen Door |
| Morten Lauridsen | Les Chansons des Roses |
| Louis Andriessen | Un Beau Baiser |
| David Lang | I Lie |
| Anoniem 14de eeuw | El Llibre Vermell de Montserrat |
Click here for the poster.
Winter Concert 2017: from Dusk to Light
Sunday 29th January
Petruskerk, Leiden
Jeroen Spitteler, director
In the bleak midwinter, as daytime slowly lengthened, the Leids Kamerkoor performed its "from Dusk to Light" programme. The serene, timeless sounds of Hildegard von Bingen, soothing polyphony by Palestrina and Lassus. But also contemporary sounds of Gjeilo, Pärt and Whitacre.
Programme

| | |
| --- | --- |
| Orlande de Lassus | Miserere mei Domine |
| Giovanni Pierluigi da Palestrina | Super Flumina Babylonis |
| | Ad te levavi oculos meos |
| Felix Mendelssohn | Herr, nun lässest du deinen Diener in Frieden fahren |
| Arvo Pärt | Triodion |
| Cyrillus Kreek | Taaveti Laulud |
| Charles Villiers Stanford | Beati Quorum Via |
| Eric Whitacre | Sleep |
| Ola Gjeilo | Northern Lights |
| Urmas Sisask | Benedictio |
| Hildegaard von Bingen | De Sancta Maria |
Heritage Open Days 2016
Saturday 10th September 2016
Hooglandse Kerk, Leiden
Heritage Open Days 2016 took place across the Netherlands during the weekend of 10th-11th September. Thousands of monuments, recognisable by the Open Monumentendag flag, opened their doors to the public for free. On this occasion, the Leids Kamerkoor was invited to sing in the monumental Hooglandse Kerk in Leiden.
Programme

| | |
| --- | --- |
| Healey Willan | Rise up, my love, my fair one |
| | Fair in the face |
| Eric Whitacre | Three flowers songs – I hide myself |
| Josquin des Prez | Mille regretz |
| Jeroen Spitteler | Cantilene |
| Nicolas Gombert | Amours vous me faictes gran tort |
| Francis Poulenc | 8 chansons françaises – La belle si nous étions |
| | 8 chansons françaises – Ah, mon beau laboureur |
| | 8 chansons françaises – Les Tisserands |
Summer Concert 2016: Rise up, my Love !
Sunday 26th June, Lokhorstkerk, Leiden
Jeroen Spitteler, director
On Sunday 26th of June we gave a concert at the Lokhorstkerk, titled 'Rise Up, my Love'. Music about love, and what surrounds it…
Varied music from this, last, and also the 16th, century. A text from the biblical Song of Songs set the tone for the first half. An exuberant opening with strident rhythm. The 'Three Flower Songs " then challenged with its many triplets. Just before the break, some renaissance music with "Weep, O Mine Eyes" by John Bennett, which we sang by heart. During the break the audience could admire works of art by some of our choir members.
After the break we sang – again by heart – more renaissance music by Nicolas Gombert and Josquin Desprez, followed by a contemporary piece "Cantilene ', a "landscape of sound" composed by our conductor Jeroen Spitteler. Singing, we drifted to random spots in the church, transforming from the 16th into the 21st century.
After the atmospheric 'Hey, góry z, z góry!' from 'Five Kurpian Songs' by Górecki, we performed Francis Poulenc's "Chansons Françaises". Dutch translations of the text were read out by Jeroen and Heidi, respectively the conductor and the author of these fitting translations.
The audience was enthusiastic, which was not only reflected by their applause but also their smiling faces. Members of the choir shared a private joke while bowing to the count of "sinaasappelkastjes" …
Programme

| | |
| --- | --- |
| Healey Willan | Rise up, my love, my fair one |
| | Fair in the face |
| Francis Poulenc | 8 chansons françaises |
| Eric Whitacre | Three flowers songs |
| Benjamin Britten | Rosa mystica |
| Henryk Górecki | Five Kurpian songs |
| Jeroen Spitteler | Cantilene |
| Josquin des Prez | Mille regretz |
| Nicolas Gombert | Amours vous me faites |
| John Bennet | Weep, O mine eyes |
OTHER CONCERTS
Concerts 2005-2010
Concerts 2011-2015
Recent Concerts
Forthcoming Concerts